With over seven decades of a celebrated history, Anula Vidyalaya has nurtured the cream of Sri Lankan students. Indulged with proper Buddhist values, the students of Anula Vidyalaya are proud successors of unique traditions and customs, passed down from one generation of Anulians to another. Holding the title of "the school with the largest Buddhist girls' population in south Asia", Anula Vidyalaya and its students resemble the serenity and tranquility of a Buddhist temple. Hence the unique saffron color of the school tie.
In this atmosphere, the students are catered to by a competent board of teachers from the Primary section to the Advanced levels section. True to its mission of gifting to the nation a versatile student force, the school accommodates a swimming and diving pool, a unique language laboratory, and is in the process of constructing a state of the art gymnasium with auditorium facilities. Therefore, not only do the students excel in academics, they also shine in other fields such as sports, aesthetics and etc. all the while protecting the ethics and principles of the Lankan society.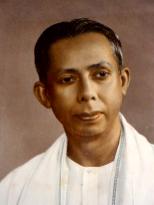 Prior to 1941 although there were schools in Nugegoda for girls there was not a Buddhist Girls School. Although this lacuna was noticed by many it was Dr.Adikaram who played a pioneering role to fill this lacuna. Due to great efforts made by him this school at present has become the leading Buddhist School which imparts knowledge to nearly 5000 girls. Later he who became its Managing Director made an immense contribution by working generously providing necessary accommodation for it.
He who had his preliminary education at Wesly College, Borella and completed his higher education by securing an honors degree from the University of Colombo. He who obtained his PHD from the University of London at age of 28 was a veteran in Sinhala, English, Pali and Latin languages. Similarly he rendered a distinguished service to Education in Sri Lanka by setting of Mathugama Ananda Shasthralaya, Battaramulla Ananda Shastralaya, Karawanella Ananda Shastralaya, Udahamulla Maha Vidyalaya and Mahamaya Vidyalaya he too was successful in preparing science books for ordinary level in Sinhala language at a time science was taught in Engkish and directed Sri Lankan education on a new path. He whom served as the Vice Chancellor of Sri Jayawardanapura University edited the English-Sinhala Dictionary. He who was a conspicuous member of the society of vegetarians and was a great a humanist and an educationist and a very humble person passed away on 25thDecember 1985.
(An extract from Dr E.W. Adikaram's message to the silver jubilee souvenir of Anula Vidyalaya)
"There was a public need a good 40 years ago that there should be a Buddhist girls' school in Nugegoda. This was in the 1930s. But the amount of restrictions we had for the cause was overwhelming. We didn't have a plot of land; neither did we have proper funds. And by that time we didn't have voluntary teachers to establish education in Nugegoda. And to top it all, the 10000 rupees the YMBA of Nugegoda has collected for the cause, couldn't be allocated due to internal disputes. So there was literally no money, but great demand to start this school, but no one would take the initiative to do it either.
By that time I was head master of Ananda Sastralaya Nugegoda. Mr. D.W Rupasinghe who was the pioneer of many community service projects and the president of the YMBA Nugegoda was working for the board of teachers at Ananda Sastralaya Kotte. We used to discuss a lot about the need for a Buddhists girls' school in Nugegoda, but still, the greatest barrier was the lack of funds.
I always believed on the philosophy that to launch on something you shouldn't wait till you've earned enough. I believed that "look before you leap" doesn't work all the time and sometimes you should leap and then look around. And that's exactly what I did. I never saved any money from my salary but I was amazed that I had 10 rupees from a particular month. I started anula Vidyalaya with that 10 rupees. I and Mr. Rupasinghe started our work.
It was a stroke of luck that Mr. Wijethunga the PHI of Nugegoda put his house on rent near the plot of land we see anula Vidyalaya today. Still the only money we had to obtain the deed of lease or to pay the rent was the 10 rupees left of my salary.
I got my relative in Rathnapura, lawyer Wickremasinghe to do the legal work for free. The next hurdle we had was to pay the monthly 60 rupee rent. Thanks to Mr. J.A Dharmadasa who lived in Gangodawila at the time, we managed to collect 12 benefactors who volunteered to pay 5 rupees each for the rent of each month.
We understood that Mr. Wijethunga's house alone was not enough to build a school. So we put up a temporary hut in the premises. It was built by a few teachers and students of Ananda Sastralaya Kotte. I still remember how the boys loaded the wood into a cart and pushed it all the way from Kotte to Nugegoda. Today these boys are in the highest spheres of the society.
Mr. D.B Jayathilaka was invited to be the chief guest of the opening ceremony of the school but he failed to turn up due to an illness. Instead, Mr. D.S Senanayaka took charge to grace the ceremony. He was a member of the senate at the time. It rained heavily during the ceremony and Doctor G.P Malalasekara suggested that the school be named Maha Mega Vidyalaya.
It was an extremely hard task to find a proper board of teachers, mainly because we did not have funds to pay them. But due to many volunteering hands we managed to overcome that feat. Miss Agnes Ranasinghe, now Mrs. Jayasekara who just finished teaching at Ananda Sastralaya, Miss P.N Nandawathi now Surawimala was amongst those first teachers. The salaries were rather peculiar as well. 10% of the amount of coins received at the end of each month was reserved to purchase chalk, ink and etc and the rest was distributed among the teachers. I recall that Mrs. Agnes received a salary of 6 rupees and 50 cents.
The hardest task of all was to select a qualified principal for the school. We wanted someone with educational qualifications, plus the ability to reach out to the children with kindness and affection. After much effort I finally consulted my good friend professor Dr. P.B. Fernando. He asked me to wait a bit and went inside to talk to Mrs. Fernando who was cuddling an infant. She agreed and stated that she'll take the job for 3 months on the condition that we find someone as a replacement in the meantime.
However this great lady, who only agreed to serve for 3 months, ended up serving the school for 15 years. She didn't charge one cent for her service or her expenditure, and the salary she got from the government in appreciation of her services was deposited in a separate bank account and she used that money to get the school, a piece of land from behind the Kovil premises.
I'm not aware of any other school with an astounding level of commitment from a principal as such. Today Anula Vidyalaya is a leading girls' school, with many buildings, but still, the fragrance of each brick is of the hard work of Mrs. P.B. Fernando and the rest."
Mrs P.B. Fernando(1941-1956)
Mrs N.Rathnapala(1956-1970)
Mrs Chithra Aberathna(1971-1975)
Mrs D.S.Meegoda(1975-1985)
Mrs Swarnapali Leelananda(1985-1987)
Mrs M.K.Walikala(1987-1988)
Mrs D.W.Windsor(1987-1991)
Mrs N.P.W.I. Jinasena(1991-2001)
Mrs Y.P.S. Chithra Jayathilaka(2001-2007)
Mrs S.N. Malaviarachchi(2007-2010)
Mrs T.A.B.K. Gunasekara (2011-2012)
Mrs N.K. Ekanayaka(2013)